Blog Archives
When asked about what he is  looking forward to most this Sunday as part of Open Streets,  Nick replies, "Mustard!  Yes, folks, there will be vendors, who will most probably be offering, a mustard…which apparently is very exciting!
Open Streets is a hip new, FREE event in Fort Collins that Awesome in Action has the good fortune to participate in this weekend.
On Sunday, from 10 am to 3 pm, a route running from North to South Fort Collins will be blocked off to traffic in order to provide a safe family-fun environment.
There will be face paint, bouncy castles, games, sidewalk chalk, snacks, and treats all along the route offered by various organizations and businesses throughout Northern Colorado.
Awesome in Action will be hosting a booth of experiences.  There will be an opportunity to race a friend in a manual wheelchair obstacle course,
converse or direct a friend through a maze with Augmentative Communication (using speech devices supplied by our favorite PRC Representative, Samantha Strong!)
and try out adaptive sidewalk chalk! (IF you can get it away from NICK for long enough!!)
We'd love to see you there! Please come and check us out this Sunday, September 9th from 10am to 3 pm!
In order to make change, we must first ensure that others are aware of differently abled people.
What better way to do this than through media?; movies, shows, music, and books all help people connect with a character in a story, and empathize on a human level.
A company in the United Kingdom, Inclusive Minds, is empowering young children with special needs to use their voices in order to create change through literature.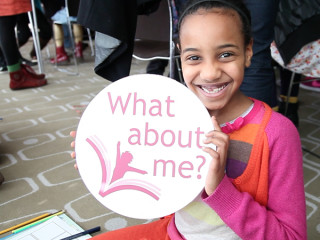 Young Embassadors for Inclusion is a group of kids who are being trained to speak out about their disability. They are becoming a knowledge base for authors, illustrators, and publishers to reference when writing about differently-abled characters.
Please consider making a donation to this amazing organization! We here at Awesome in Action love to see others that are on the same page as us!!